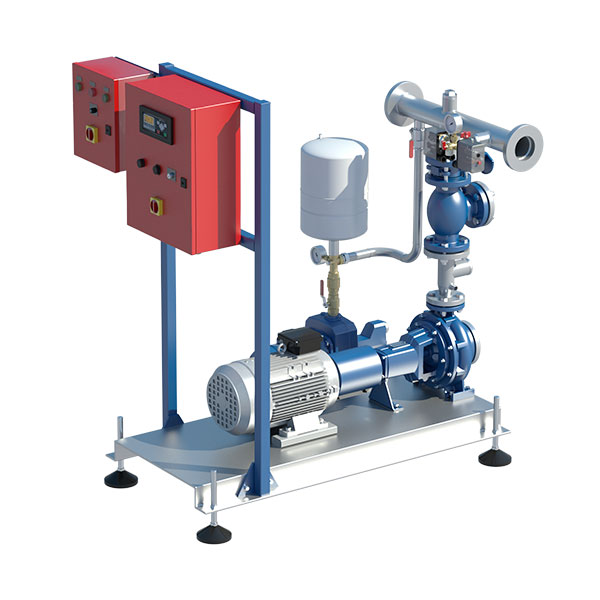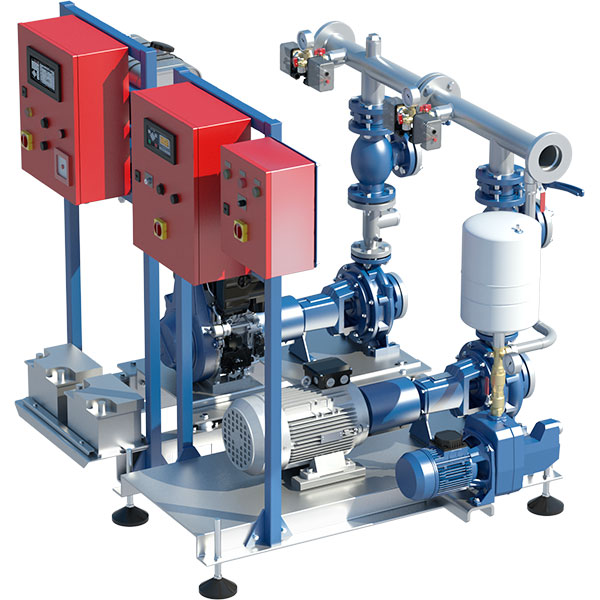 DESCRIPTION
A unit consisting of a standardised centrifugal pump with horizontal axis, with axial suction and radial delivery, manufactured in back pull-out version (par.10.1), with pump body and impeller in cast iron. Coupled by means of an elastic spacer coupling (par.10.1) to the standardised electric motor, capable of supplying maximum power for any load condition, from zero flow rate to that corresponding to a required NPSH equal to 16 metres (par.10.1). It is placed on a specific base, which also holds a compensation pump with suitable features to ensure that the water system is always under pressure.
The system is also equipped with a hydraulic pressure pillar that runs from the main pump delivery port and also with electrical panels in accordance with EN 12845 standards supported by a special steel truss
All fire prevention units are in the flooded version as expressly required by the standard (par. 10.6.1). An overhead version can be supplied on request.
COMPONENT BASE
Structure made of press-folded and galvanised steel, with levelling and adjustment elements designed to position the main electric pump, the pilot electric pump and the electro-welded steel support truss for the electrical panels.
EXTRACTION COLUMN SERVICE PUMP
01 Eccentric reduction unit with an opening angle of no more than 20° to keep water velocity within 1.8 m/sec, complete with nozzle for shut-off valve with hand-vacuum gauge.
In the flooded version, there is 1 shut-off valve: lever-operated up to DN 100, with reduction handwheel from DN 125.
SERVICE PUMP PRESSURE COLUMN
It mainly consist of:
Concentric reduction to keep the water speed within the 6 m/sec required by the standard.
Recirculation device (2% of flow rate) ( par.10.5)
Pump pressure switch in operation
Anti-vibration joint
Inspectable check valve
Pressure switch test circuit with two starting pressure switches (par. 10.7.5.1) and glycerine bath pressure gauge
Wafer exclusion valve
Delivery manifold - Equipped with pilot pump connection, flow meter connection and pipework for technical room sprinkler kit (accessory)
COMPENSATION PUMP
01 Centrifugal jet or multi-impeller electric pump with head features suitable for maintaining the water system under pressure at all times. Positioned alongside the electric pump and connected to the delivery manifold.
The compensation pump starts and stops automatically when the pressure is restored.
It is equipped with:
Check valve
exclusion valve
pressure switch
pressure gauge
autoclave vessel of suitable capacity certified for 16 bar working pressure
Control panel. In units with a service pump having a head of less than 8 bar, the components described above may be replaced by a pressure switch specially designed for pumps installed on fire prevention units
Electric pump control panel in compliance with UNI-EN 12845 standards with integrated SUPERVISION remote control and telemonitoring device.
The main electric pump panel is constructed with certified components assembled inside a metal box protected by RAL 3000 paint powders based on electrostatically applied synthetic resins, which are highly resistant to corrosion. The system is managed by a highly reliable and robust electronic control unit that fully meets the requirements of EN 12845. All electrical measurements and motor controls are shown on a backlit display.
The standard version is certified for IP 65 protection.
Inside the switchboard is the brand new SUPERVISION, high-tech remote control and telemonitoring device, specially designed to remotely control and monitor all the functions of the fire prevention unit via the web in real-time, using a PC, Smartphone or Tablet. This allows the user to take advantage of the numerous services offered by the dedicated portal, from simple alarm signalling to, useful management of periodic maintenance; from useful consultation on the state of efficiency of the equipment to, keeping a record of all the important events that have occurred during the life of the pumping unit.
STANDARD CONFIGURATION
IP 65 metal case painted with RAL 3000 resin-based powder.
3P lock-door disconnector for auxiliary power supply input with line fuses.
Electric pump inhibition key selector.
Pre-programmed electronic control unit to control and manage the electric pump in accordance with UNI-EN 12845 standards.
Transformer for low voltage auxiliary circuit.
Class AC3 starting contactors.
An audible alarm that can be silenced (10.8.6.3).
Acoustic alarm silencing button.
Fuse holders and accessories for power and auxiliary circuits.
High breaking capacity protection fuses.
Current transformer.
Motor terminal block.
Terminal board for connection to the remote alarm box.
Supervision GPRS Gateway module for remote control and telemonitoring..
ELECTRONIC CONTROL UNIT
Programmed to comply with current legislation and technical standards:
Regulation: EN 12845 2005+ A2:2010 edition
Regulation: UNE EN 23500 edition 2012
DESCRIPTION
Compact and functional design
High weather resistance IP65
Wide operating temperatures range from -10°C to +40°C
Simple and intuitive keyboard with animated icons
Reading of measurements, alarms and information on 128X64 pixels backlit graphic display, with operating animations.
Current and voltage measurements in TRMS (ammeter/voltage meter).
Event list with 140 events
4 languages on board
3 LEDs for an immediate indication of the presence or lack of phases
4 LEDs for indicating system status, such as a) start-up request; b) failed start-up; c) pump in operation; d) system not in automatic mode.
LED test from the keypad
Manual or automatic stop from pressure switch status
1 analogue input for pressure measurement
Power supply: 19Vdc and 180-440Vac (depending on model)
Programmable weekly/monthly test
6 relay outputs configurable for alarm display on remote panel
Supervision GPRS Gateway module
MEASURING EQUIPMENT
Three-phase AC voltmeter
1 Ammeter
The direction of phase rotation
Controller supply voltage
OTHER INFORMATION DISPLAYED ON THE SCREEN
Date and time
Event history (140 total events)
Accumulated hours of operation
System or main pump alarms
Automatic weekly or monthly test (optional)
It is possible to switch the unit to UNI 10779 operation, with a programmable stop time from a digital display.
Inside the electrical panel, there is a terminal board that allows the transfer of the main (four) alarms provided for by the law that signal the presence of malfunctions of the pumping unit or its intervention due to the presence of fire, to a special apparatus equipped with visual (lamps or LEDs) and acoustic (siren) warnings, placed in a supervised environment. The connection between the two systems is made via electrical cables. Other systems using the GSM network, with an appropriate SIM card, can transfer the same signals to a fixed or mobile telephone device.
CLIMATEC, on the other hand, integrates the components of its switchboards with a device called Supervision, which makes it possible to check the status of the fire prevention unit from anywhere in the world, even when it is not in use.
Supervision is a GPRS communication gateway device that integrates with a specific technological platform (portal) designed to extend the ability to control and supervise the system via the Internet using a Web browser on PC/MACs, Smartphones or Tablets. It allows constant monitoring, even in groups, of all the main parameters relating to the operating status of a fire prevention unit built in accordance with UNI-EN 12845, and of all the other accessory functions not provided for in the standard. Supervision retrieves, at regular and programmable intervals, all the information in the switchboard control units and transmits it to the portal cloud, making it immediately available for consultation by the user. Since the connection to the platform is two-way, it is possible for the user to get information directly from the unit, especially when malfunctions occur or problems arise that trigger the alarm signals. In this case, by means of prior setting up, it is possible for these signals to be sent by SMS and/or email also to intervention centres such as Assistance Centres, Fire Brigade, Police...
The system makes it possible to schedule the periodic maintenance operations required by the law and to activate remote tests; The portal acts as a data logger for the whole system, recording the main events that have occurred in the unit and providing a reliable report on the history of faults and the correct execution of weekly and periodic tests. These reports can be provided to the supervisory bodies to demonstrate the accuracy of the operations carried out or the exact moment when an event occurred (e.g. fire).
Main parameters of which Supervision allows remote monitoring for electric pumps with panels built to EN 12845 standards.
Voltage status / Voltage failure
Pump Start Test / Failure to Start
ECU efficiency / ECU memory error
Pump running
Pressure switch call
Mains pressure status
State of liquid in priming tank/ Call from priming tank float switch
Starting prevented
Communication with control unit interrupted/reset test remotely
Consultation and printout of the document archive on which wiring diagrams, photos of the system, component manuals, test reports, etc. can be stored.
TECHNICAL FEATURES::
GSM/GPRS connections
Protocols: open, Modbus RTU and TCP/IP
Multilevel username and password protection
Multi-user, multi-level, multi-language platform
Multiple connections from several remote devices allowed
The entire range of CLIMATEC units are CE-marked and comply with the regulations:
UNI – EN ISO 9001:2008
Machinery directive 98/37/EC
Electromagnetic compatibility directive EMC 2004/108/EC
Low voltage directive LVD 2006/65/EC
The design of CLIMATEC units complies with UNI - EN ISO 9001:2008.